Profile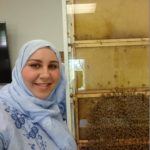 Walaa Elsayeh
Bee enthusiast :)
Curriculum Vitae
Education

Bachelor of Science in Entomology from South Valley University in Egypt (2008) 1st degree with honor, Masters in honey bee physiology from South Valley University in Egypt (2014) with distinction, PhD from Newcastle University in honey bee nutrition (2015)

Qualifications

BSc in Entomology and MSc in honey bee physiology

Work History

Demonstrator at Faculty of Science at South Valley University in Egypt (2008-2014), assistant lecturer at Faculty of Science at South Valley University in Egypt (2014-till now).

Current Job

PhD student at Faculty of Medical Science, Newcastle University.

Employer
Favourite thing to do in my job: Doing experiment and watching honey bees every day

About Me: I am a PhD student :)

Read more

I am an Egyptian PhD student at Newcastle University and a mom for 7 years old daughter. In general, I am interested in learning more about honey bees and their amazing behavior. Being a mom I am also interested in inspiring young children to complete their education and also to appreciate bees pollinating services. To do this, I am also a STEM Ambassador.

Read more

My work is where I freely breath; it is my joyful time! Because I love bees I enjoy doing research to save them. Their behavior is very unique and beautiful that fascinated me to study them.What the public know about bees is that they produce honey, but actually without bees we would not have one third of the food that we eat! Yes, bees are the super hero insect that brings most of the pants into existence for our delectation and delight besides producing honey, royal jelly and wax. Bees are considered as an endangered species because of the extensive use of pesticides, changing climate, habitat loss, parasites, and poor nutrition. My main PhD question is understanding the role of b-vitamins in honey bee: survival, development and nutrient regulation.

Read more

My typical day at work would be replying/sending emails, doing experiments, reading papers, writing reports, checking deadlines, teaching, and searching for opportunities to volunteer according to my available time.

Read more

I will organize "The busy bee" workshop that I already started to organize for and will buy an observation hive to demonstrate. I would also donate some to the Northern Beekeepers Convention to host a series of public lectures about novel in bees' research.

My Interview

How would you describe yourself in 3 words?

Enthusiastic, determined and patient

What or who inspired you to follow your career?

Who: My parents, What: learning from a free honey bee to fly from flower to another, I can travel all over the world!

What was your favourite subject at school?

Maths and biology

What did you want to be after you left school?

A professor

Were you ever in trouble at school?

Sometimes but only in studying history

If you weren't doing this job, what would you choose instead?

A beekeeper and jewelry designer

Who is your favourite singer or band?

Fairouz

What's your favourite food?

Pizza

What is the most fun thing you've done?

Taking part in this event and getting my daughter's helpto prepare for my experiments

If you had 3 wishes for yourself what would they be? - be honest!

Be healthy, win Nobel Prize for a great discovery that saves the bees and to be a millionaire to help poor students complete their education

Tell us a joke.

Can a kangaroo jump higher than a house? Of course, a house doesn't jump at all.
---
---