Profile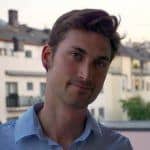 Gabriel Balaban
Curriculum Vitae
Education

University of Oslo 2010-2017, Trent University Canada 2003-2008

Qualifications

PhD

Work History

Information Technology Consultant, Germany 2008-2010. Software developer 9.2012–1.2013, Oslo Norway.

Current Job

Researcher St. Thomas Hospital

Employer
Favourite thing to do in my job: Experiment with calculations on my computer

About Me: International biomedical scientist who loves sports

Read more

I live with two flatmates in central London, only a 10 minute walk away from work. As I have moved serveral times in my life I have family in different countries. My daughter lives in Oslo, Norway, my sister in Prague, Czech Republic, and my mom in Toronto Canada. In my holidays and on weekends I often travel to see my family, but I also like to travel to see new things. This year I have been exploring the UK. My favourite places so far were Bath and Seven sisters. In a few months I will go to Edinborough. I spend a lot of time reading about science and thinking about how to make medicine better with computers. When I am not doing this I like to go to the gym and train with weights, and practice stretching to do the splits.

My Work: Electrician of the heart

Read more

What problem am I trying to solve?

Your heart is a pump that squeezes in response to electricity. For healthy people this electricity comes in a steady rhythm, which allows the heart to pump well and keeps the body alive. Some people have scars in the heart which make the electricity flow in bad ways. One bad way for electricity to flow is in a loop. A loop makes signals that beat the heart too fast so that it cannot pump properly.

My job is to guess which patients might get an electrical loop, so that doctors can help them by putting a pacemaker into their body. I also try to find out which patients do not need help, so that they don't get pacemakers if they do not need them.

How can I guess who needs help?

I use a special kind of medical image in which scars appear as bright white areas in the heart. I then use a computer to calculate how electricity moves around the scars, to see if a loop forms.

Here is a video of an electric loop that I found in a patient. The black line are little scars that cause problems for the electrical waves. These waves go through the scars at first, but later make a loop.

My Typical Day: Reading, Writing, Experimenting

Read more

When I am at work I spend a lot of time setting up experiments on my computer. For this I need to program the computer to read and analyse medical images, and calculate the way electricity moves. Sometimes the calculations are very big and I have to use a supercomputer, which is really just many computers working together. I also read articles that doctors and other scientists have written about the technologies I use and the diseases that I work with. When I find something exciting I write it down and make an article out of it to share with the world.

For much of the day I am by myself reading, writing and experimenting. However it is also important for me to talk to other people about what I am doing, so that I can learn from them if they know something better than I do. That is why I also spend a bit of time every day talking to my fellow scientists about my work.

What I'd do with the prize money: Trip to Florence Nightingale museum and lunch

Read more

I would take a classroom of students to the Florence Nightingale museum to learn about the start of modern nursing and buy everyone lunch at the delicious Thursday farmers market next to St. Thomas Hospital. Any remaining money would go to the charity Doctors without Borders which provides medicine to some of the poorest people in the world.

My Interview

How would you describe yourself in 3 words?

Friendly, curious, athletic

What or who inspired you to follow your career?

A maths professor named Marcus Pivato. I also admire Niel DeGrasse Tyson a lot.

What was your favourite subject at school?

Maths

What did you want to be after you left school?

I didn't know so I just studied mathematics

Were you ever in trouble at school?

Yes I was often late to class and would make trouble if I was bored

If you weren't doing this job, what would you choose instead?

A gymnast or a detective

Who is your favourite singer or band?

Depeche mode

What's your favourite food?

Pizza, especially if's made by my girlfriend Eleonora!

What is the most fun thing you've done?

Explore the tower of london with my daughter

If you had 3 wishes for yourself what would they be? - be honest!

That I could bring peace to the world, give people better health, and win a nobel prize

Tell us a joke.

In the 1950's the americans didn't know how to write in space so they spent 10 million dollars developing a special space pen to take on their missions to the moon. In Russia, they simply used a pencil!
---
---