Profile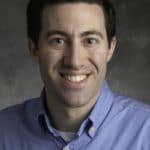 Adam Ruben
Curriculum Vitae
Education

Princeton University (1997-2001), Johns Hopkins University (2001-2008)

Qualifications

BA in Molecular Biology; PhD in Biology

Work History

Lecturer - Johns Hopkins University, Freelance Writer and Comedian

Current Job

Associate Director, Vaccine Stabilization & Logistics, Sanaria Inc.; TV Host, Science Channel

Employer
Favourite thing to do in my job: The coolest part of my job is finding out what happens when something I helped create gets injected into a human being. Second favorite thing: Playing with liquid nitrogen.

About Me: I live in Washington, DC with my wife, 6-year-old daughter, and 3-year-old son. In my spare time, I like playing pinball and even wrote a book about it. I've also been performing stand-up comedy for several years, and I travel a lot for my performances.

My Work: My company is developing a vaccine for malaria, and I'm mostly helping with keeping the vaccine cold--like, REALLY cold--until it can get to a hospital where we're testing it. I'm also working on ways to make the vaccine better and how we can design a factory where we'll produce even more of it.

What I'd do with the prize money: I've always been surprised how some students can get all the way through school having met lots of science teachers--but having never met a real scientist. Sometimes scientists can seem like mythical creatures, but once students meet them, they realize they're just human beings. I'd use the money to arrange field trips for students in poor schools in Washington, DC to visit scientists at their laboratories.

My Interview

How would you describe yourself in 3 words?

life-saving, fun-having biology-doer

What or who inspired you to follow your career?

I'm slightly too old to have been inspired by Bill Nye. My TV scientist inspirations were Mister Wizard and Doctor Fad, both of whom had science- and engineering-related shows. Also, my mother was a scientist. She retired a couple years ago, but she has a PhD in Anatomy, and I was born at the hospital where she taught.

What was your favourite subject at school?

Creative Writing

What did you want to be after you left school?

A bioengineer, a writer, and a comedian.

Were you ever in trouble at school?

Not really. I was a rule-follower. I had detention one day in tenth grade because I tossed a crumpled-up piece of paper into the recycle bin, and my French teacher apparently had a thing against students throwing paper during class. (I then got into more trouble for not attending detention because, it being my only time there, I went to the wrong room.)

If you weren't doing this job, what would you choose instead?

Television sitcom writer

Who is your favourite singer or band?

The Beatles

What's your favourite food?

Fresh tomatoes when they're in season

What is the most fun thing you've done?

I once rode my bicycle more than 3000 miles (5000 km) across the United States.

Tell us a joke.

If you're not part of the solution, you're part of the precipitate.
---
---